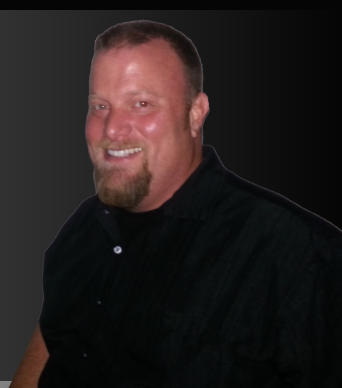 © Gruffs Tap and Grille 2013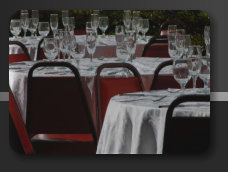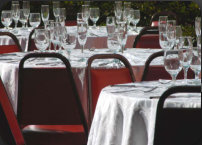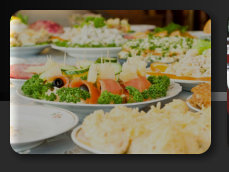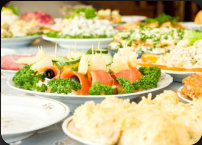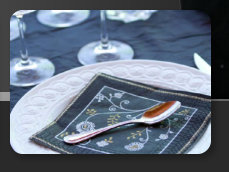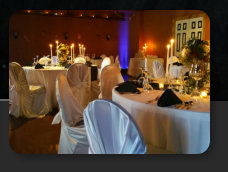 Gruff's Elite
Banquets & Catering

Thank you for considering Gruff's Elite Banquets & Catering for your event. As with any devoted relationship,
incredible taste and a successful event come with time, patience and a heightened attention to detail. It is my
personal goal to prepare and achieve the most indulgent flavors in our signature entrees. We use only the finest
meats, seafood, vegetables, herbs and spices to ensure the taste of our entrees at their most intoxicating levels.
Our attention to detail and service standards are extremely high, these facts coupled with our artful blend of
imagination, sophistication and exquisite culinary delicacies are sure to make your event a memorable one. Our
service begins with our Catering coordinator who will assume continual assistance throughout every phase of
planning, handling all of your event details with an unbridled passion and commitment. Our commitment continues
with our professional & diligent banquet staff. They are trained to quietly and sophisticatedly serve your guests with
the utmost respect for you and everyone attending the evening's event, allowing them to enjoy the food and service
but more importantly Experience the Moment of your Event.
I would like to thank you for allowing Gruff's Elite Banquets & Catering to quote your special event. If we can be of
any further assistance to you in ensuring a successful evening, please feel free to contact me at any time.
Respectfully,
Alan J. Ingram II
Executive Chef
Gruff's Elite Banquets & Catering
Gruff's Tap & Grille
Gruff's Elite Banquets & Catering
Alcohol Service Policy
Gruff's Elite Banquets & Catering
is committed to the responsible service of alcoholic beverages. We are dedicated to
upholding Florida State Law regarding sale and consumption of alcohol. Our staff is trained to recognize intoxicated behavior,
assess individual limits and to limit or refuse service when necessary. Therefore, the following policies are practiced
at all functions and events:
No guest who is under the legal drinking age of 21 years, or who appears to be and cannot furnish proper ID, will be served or be
allowed to consume alcohol.
We may refuse liquor service at a function with a significant number of underage guests or where, in our opinion, circumstances
might encourage violation of State alcohol regulations.
No guest who appears to be, in our judgment, intoxicated or shows signs of intoxication will be served.
We reserve the right to limit or suspend during any function where, in our opinion,

Gruff's

liquor license may be in jeopardy or
where the comfort and safety of our guests may be in jeopardy.
No alcoholic beverages may be brought onto our licensed premises.
No alcoholic beverages may be removed from the premises or consumed outside of supervised areas.
Our staff must know who is drinking any alcoholic beverage. Therefore, if you're ordering more than one beverage, our staff may ask
to see who the other beverages are for.
Alcohol service will end one half hour before the end of the function.
State law requires all alcohol services suspended at 2 a.m.
Thank you for choosing Gruff's Elite Banquets & Catering for your upcoming event. We are confident that our
facility, quality of food and our impeccable service will ensure a memorable event.
A deposit in the amount of the room fee will be required to hold your date. This deposit is non-refundable.
Fifty percent (50%) of the estimated total bill will be due 14 days prior to the event. Any cancellations within the 14
days prior will result in 50% forfeiture of all deposits. Cancellations in the last five (5) days prior to the event will
result in 100% forfeiture of the deposit.
Events at our venue are scheduled for a maximum of three (3) hours. Additional hours may be arranged for an extra
fee.
Early access to your function for decoration will be available 3 hours prior to your event, if there is no event
preceding yours.
Menu Selections are required thirty (30) days prior to your event.
Gruff's requires that menus be finalized at least four weeks prior to the event. A final guaranteed guest count is
required fourteen days prior to the event.
You will be charged for your guarantee plus any additional guests. We will be prepared to serve 5% over the
guaranteed number. If your event falls below the guaranteed minimum for your selected menu, you will be charged
for the guaranteed number of guests.
Local and State health regulations prohibit food or beverages to be brought in to our facility. Wedding cakes,
prepared by a licensed & insured professional, are the only exception.
Food service involves delicate preparation and time management control. Therefore, Gruff's only guarantees food
quality for thirty (30) minutes beyond prearranged dinner service start time. We cannot guarantee foods quality if
the event is delayed more than thirty (30) minutes.
Quoted prices are subject to change when bookings are made more than three months in advance. Pricing will be
guaranteed 90 days prior to the event.
There is a nonnegotiable facility charge of $125 per hour (3 hours minimum)
INCLUDED IN FACILITY CHARGE:
Round tables with black & white linens - Banquet chairs & covers –

our

centerpieces

Bar set up - Buffet set up – Staff (gratuity not included)- plates, utensils and glassware – black linen napkins – TV

SERVICES AVAILABLE FOR AN EXTRA CHARGE:

Projector & Screen –DVD – Pianist – Music system – DJ – Photographer –
Wedding Cakes – Chocolate Fountain – Champaign Fountain – Cake Cutting –Utensils

All prices are subject to an 18% service charge and applicable state and
local taxes
Make Checks Payable to:
Gruff's Tap & Grille
12084 S Williams St
Dunnellon, FL 34432
1-352-465-2881 and 1-352-445-5246
There is a 3% processing fee added to all accounts paid by credit cards
1-352-465-2881
1-352-445-5246